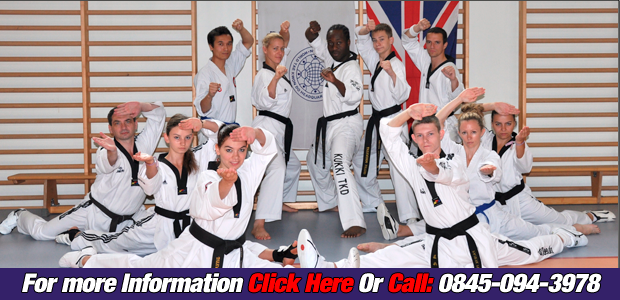 Adult Beginners Taekwondo!
Welcome to Hwarang Taekwondo London
"Hwarang Taekwondo is dedicated to the highest quality of martial arts training. We are committed to continually enhancing our programs to address exercise, drills, safety tips and a realistic approach to self-defence situations.
The Academy was founded in January 2001, by Master Daniel Kobbina (World Gold Medallist). Through the high standards set by our instructors and students over the years, we have gained the reputation as the finest Kukkiwon certified, WTF Olympic style Taekwondo and martial arts school in Central London.

The WTF (World Taekwondo Federation) is the official governing body recognised by the IOC (International Olympic Committee) for Taekwondo. The Kukkiwon is the Technical Headquarters of the WTF in Korea and regulates all Technical aspects of WTF Olympic Taekwondo worldwide. First and foremost, all Hwarang Taekwondo London Instructors are Kukkiwon certified. They have also competed at the highest levels and have been selected after graduating from an intense Instructorship Training Programme to hone their teaching and interpersonal skills to perfection. After taking a few lessons at our school, you will see why we are London''s number 1 choice for martial arts.
Follow Us:
Testimonials:
I have seen a thousand and one classes. This is one of the best taught classes ever!
Superb teaching - From a great tree is borne great fruit.
Sir Tom Hibbert M.B.E (Chief Executive AMA)
School Schedule
CLICK HERE To Get The Schedule!
Event Calendar
CLICK HERE To Get The Calendar!